Our Proven Solution To Empower Women Entrepreneurs Shown at the Capitol
Imagine taking over The U.S. Capitol Visitor Center to share the business moves Hispanic women-owned small businesses need to grow and excel in their industries—what if we told you that's what we accomplished? 
On February 8, our CEO, Business Development Director & Creative Director, Sojey Fernández, participated in this year's Dominicans on the Hill. This conference aims to highlight and acknowledge the Dominican-American community's civic engagement in the United States. Every year, the event shares a series of panels from this country's community leaders, functionaries, and professionals of Dominican descent. In this 5th Annual, we presented our innovative program, "the Power of Your Brand."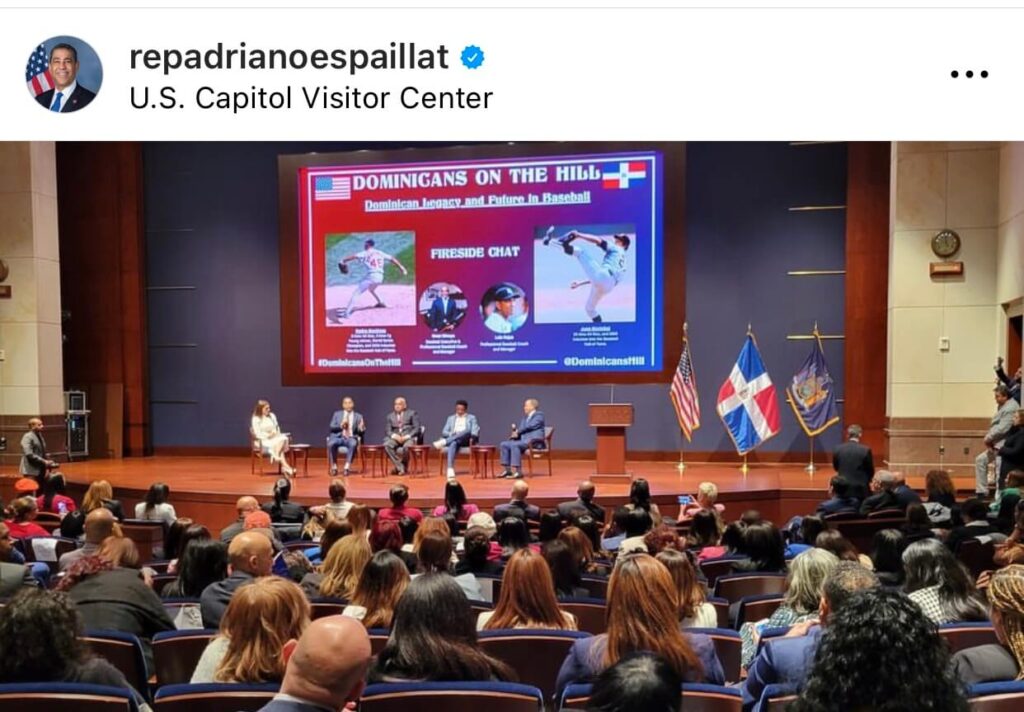 Meet the story behind "The Power of Our Brand."
At D&S Agency, we've been passionate about empowering women in business. That's why we've helped thousands of Hispanic, NYC-based women entrepreneurs launch their offerings and grow their businesses through unparalleled branding and digital presence. As branding and marketing experts, we noticed our Hispanic community of women entrepreneurs faced numerous challenges in the business world. For instance, many have budget limitations for investing in brand identity design and website development.
Investing in these elements impacts brand awareness and provides long-lasting results that help with business growth. In our branding and marketing agency, we witnessed and experienced the impact when our visual identity helped us land our first significant subcontract to work with NYC. If investing in our business gave us this result, we believe other Hispanic M/WBE-certified businesses deserve a transformation like ours. For that reason, Sojey seeks to provide that for other women entrepreneurs in different industries. 
Our CEO has years of experience making multiple business moves, but not all decisions resulted in a positive outcome. That's why we collaborated with Sojey to create "The Power of Your Brand" to share what small businesses need to have an outstanding digital presence while avoiding years-worth of missteps and bad executive decisions. Thanks to this innovative program, women can make both strengthening their credibility and gaining business opportunities in the city a reality.  
What was it like to present at Dominicans on the Hill?
It's not every day leaders get the chance to visit The U.S. Capitol Visitor Center and present their innovative solutions. The pressure was on knowing that the event counted on the assistance of Miguel A Cardona, U.S. Secretary of Education; Chuck Schumer, Majority Leader of the United States Senate; Kirsten Gillibrand, junior U.S. Senator from New York; Robert Menéndez, senior U.S. senator from New Jersey; Hakeem Jeffries, Minority Leader of the U.S. House of Representatives; Sonia Guzmán, Dominican Republic ambassador; Christopher Dodd, Former U.S. Senator; and Rick Revesz, Administrator of the Office of Information and Regulatory Affairs, U.S. OMB. 

As a team, we were excited and cheering for Sojey on this milestone in her experience as a CEO. But we're not the only ones celebrating. Sojey's panel got featured in multiple media outlets, including Diario Libre, El Nuevo Diario, and El Caribe. We must admit that Sojey felt overwhelmed, wondering if she would do a great job (Spoiler Alert—she did it fantastically!). Overall, seeing Sojey Fernández presenting "The Power of Our Brand" was an unforgettable experience she and the rest of the team are proud of witnessing.
The takeaway of "The Power of Your Brand."
Having a successful business as a woman entrepreneur is possible. However, to reach our goals, we must invest in three things: ourselves, our business leadership, and our digital presence. We can get a seat at the table in big companies and organizations. If it was possible for Sojey, you could accomplish it too. 
Related links: