Our client, Flowbird, partnered with the NYC DOT to bring the ParkNYC app's improved experience. ParkNYC is an innovative parking solution that allows motorists in New York City to pay for parking via on-street meters. The app offers users multiple payment methods for parking in the city, including on-street MuniMeters, the mobile app, web payments, and call-in to pay.
When Flowbird came to us, they were ready to make it easier for drivers to pay for parking in New York City. They are experts at creating a user-friendly interface for the app and providing better options for users to pay. However, they needed help driving various marketing initiatives to promote brand awareness.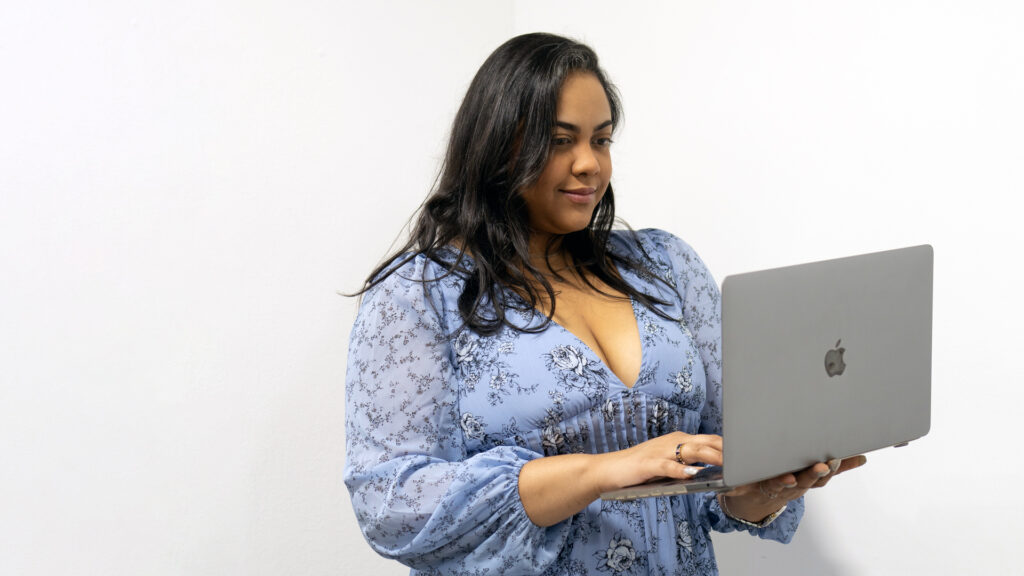 Before jumping into designs, we learned about the client's needs and researched and strategized what was needed to demonstrate the user-friendliness and overall experience the new ParkNYC app can offer. 
After checking the state of their visual identity and the website they had before, we noticed that ParkNYC's look and feel were outdated. The website lacked a modern look, movement, structure, and mobile-friendly design. ParkNYC required keywords on their website for better SEO. On the other hand, ParkNYC required an influential digital presence to promote brand awareness. 
With our research and strategies in place, our branding and marketing team got to execute the approved strategy to help our client bring new life and excitement to ParkNYC. The ultimate goal? Get the new and existing users excited about the latest ParkNYC app and increase brand awareness.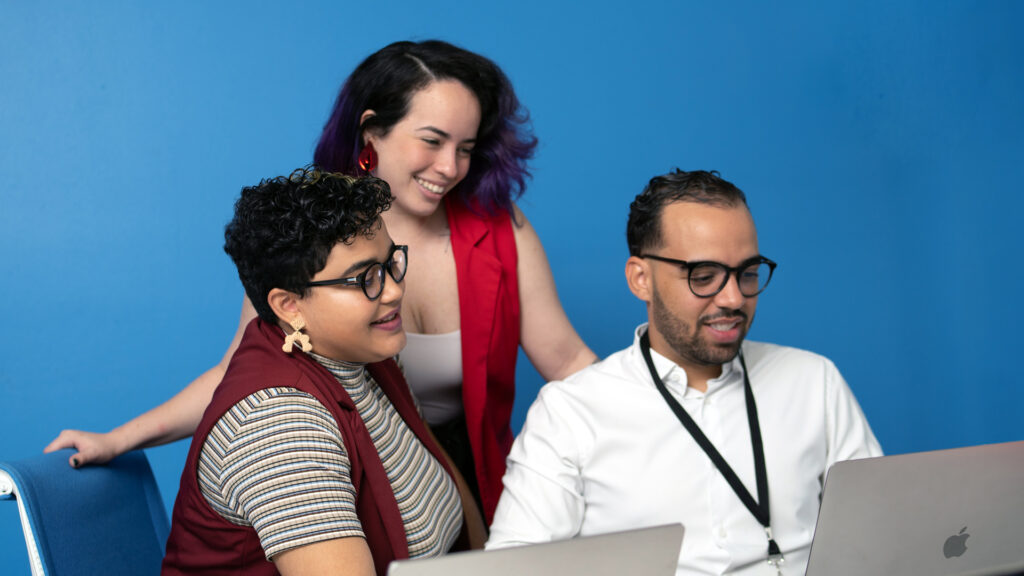 ParkNYC's journey to reach its goals had multiple phases. During this project's initial phase, our primary goal was to showcase the rebranding of the new app, which goes beyond refreshing the visual identity. Through the design, messaging, and marketing strategies, we now demonstrate to the target market that ParkNYC has an updated look and an elevated experience that simplifies how they pay for parking in the city.
We're excited to launch a new and improved ParkNYC app today, making it easier for drivers to pay for parking in New York City. Powered by Flowbird, the app includes a modern and user-friendly interface along with options to pay as you go or pre-load a ParkNYC wallet. pic.twitter.com/QmzfJiNZcz

— NYC DOT (@NYC_DOT) October 17, 2022
• Visual identity Research
Redesigning the visual identity is not a universal solution for brands. With ParkNYC, we kept the original logo and the blue and orange colors from the palette. However, we added bolder and brighter colors to make the already-known brand stand out further. Additionally, our team designed dynamic brand patterns and custom icons. Extending the color palette and adding graphic elements create an effortlessly modern and refreshed look to the brand.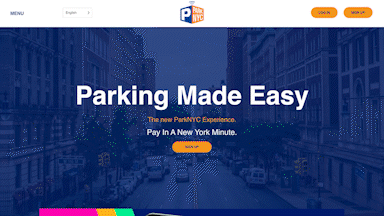 Before, ParkNYC did not have a personalized domain. Instead, it was within another site. After working with us, the app owns a custom domain that matches the brand.
The new website has numerous goals for ParkNYC. For instance, the website aims to drive traffic back to users, encouraging them to download the app. That's why the site shows a user-friendly design that introduces the app to new customers and serves as the homepage for them and existing ones. In addition to implementing the visual identity, we ensured that the website features an FAQ page and provides informational content, including a blog for up-to-date topics. Because users are on the go in the city, we made the website mobile-friendly for them to access on any device. Most importantly, we ensured that the new site was accessible to all users and in compliance with ADA guidelines.
• Organic & Paid Social Media Content
Showing your offering where your target market is, is fundamental for brands. That's why our marketing team creates organic social media content for ParkNYC on Twitter plus other platforms focused on informative, value-based topics with attention-grabbing photos and custom animated videos. Currently, we combine ParkNYC's organic content with ads to boost brand awareness and drive app downloads and transactions.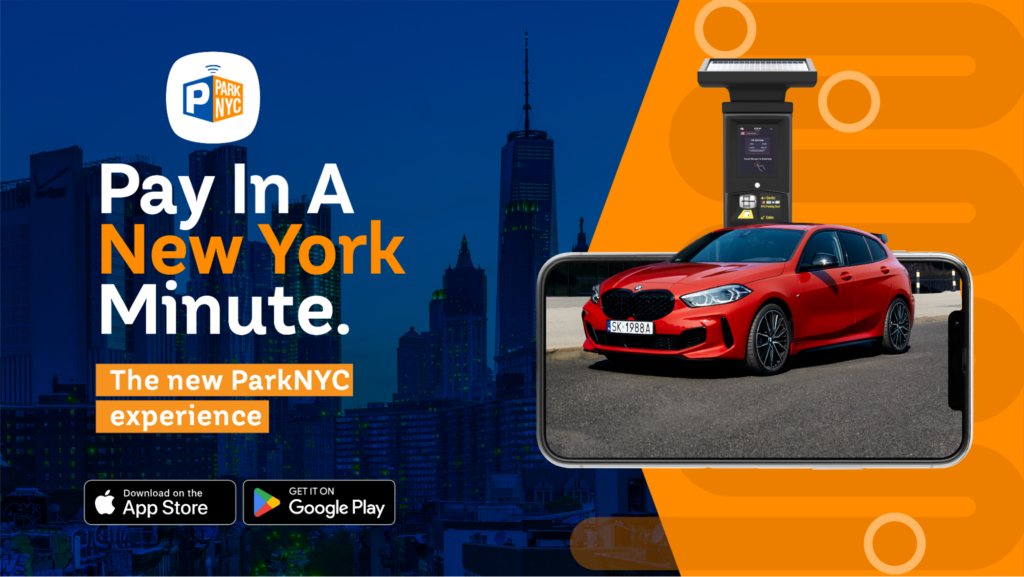 • Up-to-date Marketing Materials
We worked on the rest of the brand identity design by creating marketing materials to educate users, increase brand awareness and promote the app. For instance, we updated the meter stickers with the new visual identity. By implementing the bright colors and the logo, motorists in NYC can easily see and recognize ParkNYC's parking meters while helping them learn key information and pay for parking. Because the app is new, has different payment options, and has an improved design, the client aims to continue providing informational content that details new and updated app features. Therefore, we created other digital and print marketing materials such as flyers and rack cards, an app guide, and assets for Apple's App Store and Google Play. 
• Commercials & Animations
If there's one thing social media has taught all business owners is that video isn't going anywhere. Online users continue consuming more video content than before, which is fundamental for product awareness. Consequently, we produced multiple videos, including a commercial to announce the app's launch that showcases the new experience for the everyday motorist in NYC. Our team also created videos combining motion graphics for the how-to and app guide. 
After launching the new app and consistently implementing the strategies and marketing materials, Flowbird and NYC DOT reached the ParkNYC app's goals within three months. They obtained 1.25 million downloads with over 900k active accounts. Additionally, they got over 7.5 million transactions and have 4.5 and 4.7 ratings on Google Play and the App Store, respectively. If ParkNYC acquired these results in three months, imagine the significant goals they'll accomplish in the long run. 
Our client's success is not an isolated occurrence. By partnering with the right branding and marketing agency to work on strategy-driven efforts, your brand can achieve tangible results like ParkNYC. Discover the difference in working with us by clicking here.