After years of having a specific look, brands often change their logo or the colors they use in their brand. You might have seen articles written about big companies changing their logos. This type of makeover is called a brand refresh.
Regardless of your company size, it's vital to keep your brand updated. As an entrepreneur, business owner, or both, you must ensure that your business continuously adapts to new influences, as it's growing and always changing. For that reason, just like any other marketing strategy or tactic, a brand refresh will help your business avoid looking outdated.
Know what the best part of a brand refresh? You don't need to redo everything since it's a set of changes that will improve your business' look and feel. In simple words, refreshing your brand is giving your company a fresh and upgraded look while keeping your message and identity.
Here are some of the things your brand can change to refresh its brand recognition:
Upgrade logo elements
Modifying the slogan
Updating the stationary or marketing materials
Changing or adding a font
These details might sound small, but they showcase a huge difference. Take a look at our client, Creative Cleaning, old and new logo: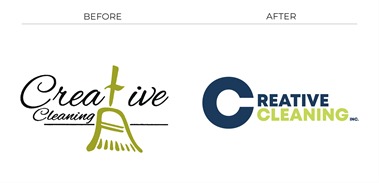 In the design process, we noticed some elements in their previous logo that didn't seem to fit. For instance, "Cleaning," which directly demonstrates the type of service they provide, doesn't stand out due to "Creative" being bigger. On the other hand, while the company is called Creative Cleaning, the design of the broom has an antique design that doesn't represent the innovative brand.
With the new logo, we kept it simple and timeless. Instead of the words competing with each other, the typography is modern and balanced. Also, the logo has some versatility. Besides the ability to change and combine colors from the palette, the business can use the "C" as a separate logo icon.

With a simple and well-done brand refresh, your business is noticeable and memorable, helping your business standout from your competition.
Considering that you're reading this blog, there's a chance that you're thinking about spicing things up with your brand. But, how do you know if a brand refresh is what your business needs? Although many signs show it's time for an update, we want to give you some clues:
There are concepts that you want to keep, but others you want to change.
You have your loyal clients or followers, but the brand doesn't reach newer ones from the same audience.
Your brand needs some tweaks to make it modern.
On-trend brands are catching people's attention, making our business seem old-fashioned and unimaginative.
Analyzing and developing a brand refresh requires an investment of money and time. In the right circumstances, strategizing the changes needed and the concepts it can invite people to think about your business in a new way. Let's not lose the chance to tap into a new modern and fresh look and stand out of the competition with our new social media plan specials!